For Fall-Winter 2015-2016, influential designers have created directional looks in the form of Contemporary 70's and the Super Chunky Shoe. As they haven't yet been seen in previous seasons, both these styles are likely to continue as mainstream fashion trends for the year ahead. (Veselka Petrova). Majority of fashion designers proposed fur shoes for the autumn/winter 2015-2016. Also at the Milan Fashion Week were presented leather boots, knee high boots and moccasins.
This is the highlight of what was featured on New York, Paris, Milan and London fashion week for Fall-Winter 2015 Trends according to "www.harpersbazaar.com".
1- Patchwork: The 1970s show no signs of being a passing trend earing its sophisticated stance in footwear that leverages patchwork for texture and color play.
2- Fur side: With fur bombers remaining a large trend—and ever-growing in size and scale—it makes perfect sense that a penchant for all things furry would migrate to standout accessories.
3- Color contrast: The main idea in color is that two are better than one, done up in subdued hues for a lesson in chic restraint.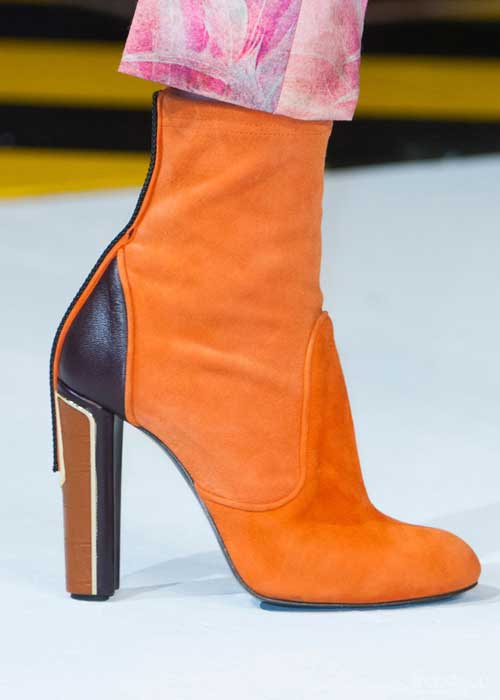 4- Going Higher: Over-the-knee and thigh high boots are the ultimate in footwear. The higher, more fitted and more dramatic the better.
4- Full Metal: Designers are gilding the lily for Fall, adding high shine elements to shoes that run the gamut from Greek goddess-ready to boyish brogues and disco dancers.
5- Boy's Life: From Chelsea boots to lace-ups, the coolest in low-riding footwear takes direct inspiration from your most stylish guy's closet.
6- Classic Pumps: The classic pump was to be seen everywhere on the fall/ winter 2015-2016 runway shows. It was back in style and looked amazing with cropped pants, flared trousers, leather leggings and all. Thin heels or thick, pumps were one of the biggest fall 2015 shoe trends to hit the stage and we cannot help but jump with joy for it. (www.fashionisers.com)
7- Perfect Ankle Booties: Booties are big for the fall and winter seasons and with good cause too! They are just high enough to endure the snows and keep the feet warm.
8- Add in Geometry: While chunky heels are in, some of the fashion houses have opted to add more character to them and, while they are not quirky, make them reminiscent of artistic endeavours which look really good when turned into the heel of a shoe.
9- Narrow with super long noses: This looks beautiful but we all know that many women don't have very thin and long feet, but for those who do, the long and narrow nose of the shoes will look fantastic! Many designers stuck to engineering their footwear with this style and ideal however, which slightly defies the whole comfort aspect that has been the main theme of the 1970s fashions brought to the modern era.
10- Stocking Boots: Stocking boots are very pretty overall and quite comfortable in themselves. It fits the foot and leg perfectly, including on women with soccer calves, looking particularly glamorous when fitted in fashion latex and lacquered leather. It complements the whole outfit as well as really looks lovely on the limbs.